FEATURE
– Ultimate iron in pursuit of control, feel, and forgiveness.
– Feeling of impact is soft by using S20C mild steel carbon as material.
– Largest sized forged iron ever, but still maintein light weight.
– The feature is high trajectory, penetrating ball flight by semi large and off set shape of head.
– Distance is exceptional compare to other competing models
– The under cut cavity design and wide center sole realize low center of gravity, sits well at address, gives ideal trajectory despite having strong loft, easy to hit from both fairway and rough.
– The under cut cavity gives higher ball speed, wide center sole makes easier to sweep and prevent fat shots.
SPEC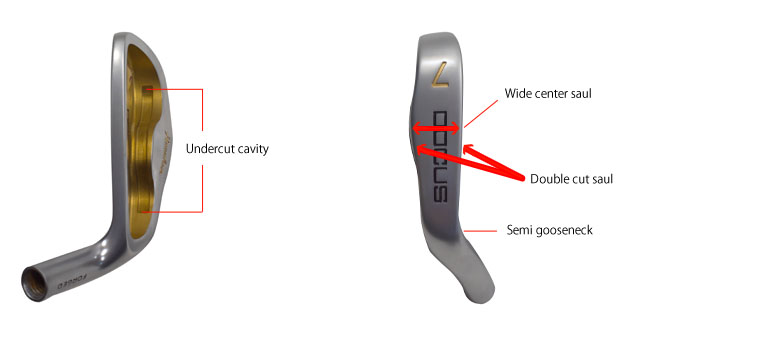 Assembled in JAPAN
Head
Material
S20C Mild steel carbon, pearl white, gold IP
Manufacturing process
Forging
Yearm
#4
#5
#6
#7
#8
#9
PW
AW
SW
Loft(°)
22
25
28
32
36
40
45
50
56
Lie(°)
61.5
62
62.5
63
63.5
64
64.5
65
65
Head Weight(g)
247
253
260
267
275
283
291
294
295
DOCUS For Iron Shaft
Flex
R
Shaft Weight(g)
61
Length(Inch)
38.5(#5)
Swing Weight
D0
Kick Point
Low
Torque
3.3〜3.9
Total Weight(g)
365(#5)
KBS TOUR 90 Shaft
Flex
R
Shaft Weight(g)
97
Length(Inch)
38(#5)
Swing Weight
D1
Kick Point
Low
Torque
2.5
Total Weight(g)
401(#5)
NS 950 Shaft
Flex
R
Shaft Weight(g)
97
Length(Inch)
38(#5)
Swing Weight
D1
Kick Point
Low
Torque
2.5
Total Weight(g)
401(#5)
Price
#5-PW(6 Set)
DOCUS For Iron Shaft-mounted model
¥180,000
#5-PW(6 Set)
KBS TOUR 90 Shaft-mounted model
¥144,000
#5-PW(6 Set)
NS 950 Shaft-mounted model
¥132,000
#4,AW,SW
DOCUS For Iron Shaft-mounted model
¥30,000
#4,AW,SW
KBS TOUR 90 Shaft-mounted model
¥24,000
#4,AW,SW
NS 950 Shaft-mounted model
¥22,000